Woollahra Kitchen Renovation
Project Overview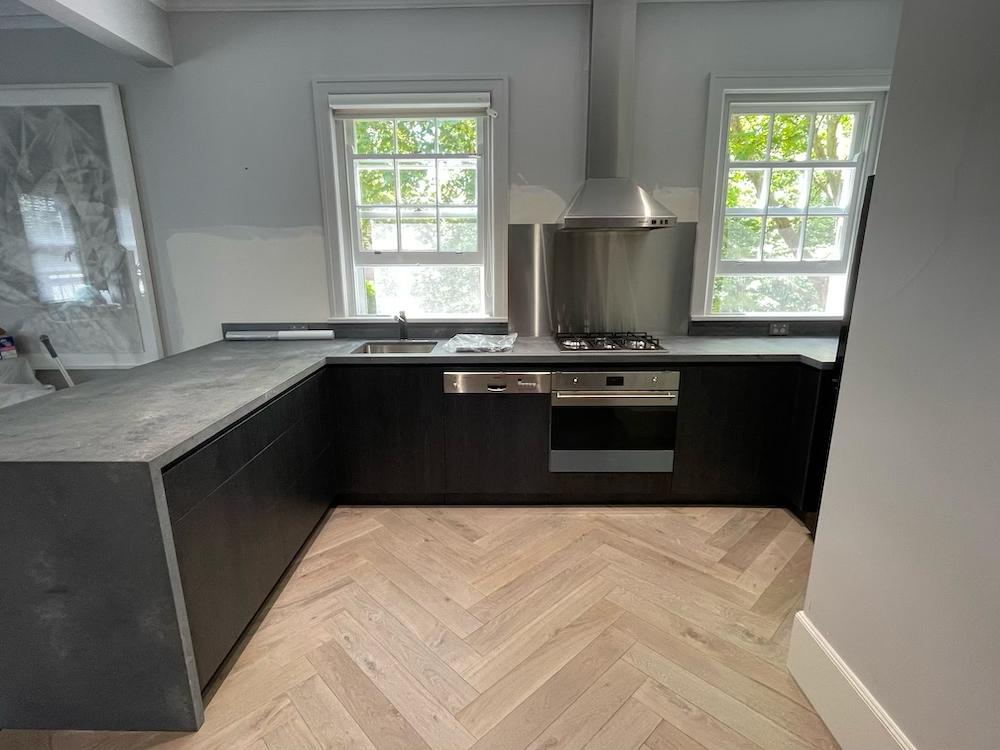 Project Overview
The Client Brief
The client desired a combination of natural-looking materials and an increase in bench space and storage capacity for their renovation project.
The Challenge
The challenge was to design a walk-in pantry that could accommodate a microwave, wine fridge, broom storage, appliances benchtop, and drawer system storage for dry pantry items.
The Design Solution
The design solution was to create a galley-style walk-in butler's pantry, with a long benchtop and drawers on one side and tall units on the other for wine/microwave and brooms. The lack of corners maximised the space for a more efficient layout.
The Result
The clients were pleased with the design choices for their kitchen! The combination of concrete and black aesthetics can create a modern and sleek look, while the herringbone oak timber floors can add warmth and texture to the space. The butler's pantry is a smart design choice, as it allows for appliances to be stored out of sight and off the kitchen benchtop, which can create a more streamlined and clutter-free look. Additionally, reducing a pantry in the kitchen can help to create a more open and spacious feel, which is especially important in smaller kitchens.
Project Features
Premium Laminex Woodgrain Doors

Caesarstone concrete range benchtops

Caesarstone Concrete Range Benchtios

No handle style
Kitchen Features
Features
The newly renovated kitchen features premium Laminex woodgrain doors, which provide a stylish and natural appearance to the space. The woodgrain texture adds depth and character to the cabinetry, creating a warm and inviting atmosphere. The doors are also durable and easy to clean, making them a practical choice for everyday use.
The Caesarstone concrete range benchtops offer a sleek and modern look to the kitchen. They are heat-resistant and scratch-resistant, making them a durable surface for cooking and food preparation. Additionally, they are easy to clean and maintain, making them a practical choice for busy households.
The Caesarstone concrete range splashbacks complement the benchtops, providing a seamless and cohesive design element to the kitchen. They are also easy to clean and maintain, making them a practical and functional choice for the cooking area.
The no-handle style of cabinetry creates a streamlined and minimalist look to the kitchen. The absence of handles not only provides a sleek and modern appearance but also makes it easier to open cabinets and drawers. This feature is ideal for those who prefer a minimalist and clutter-free design aesthetic.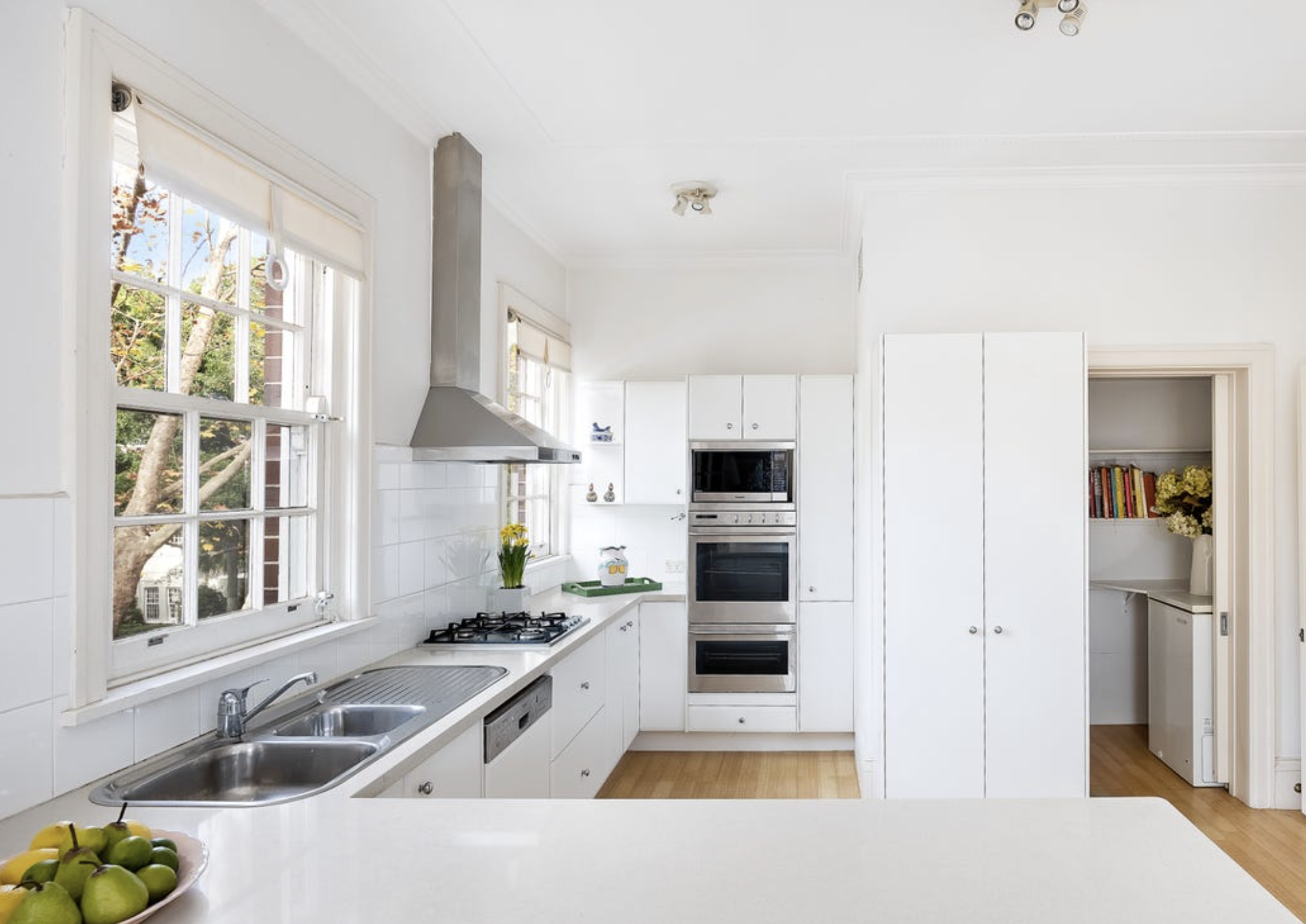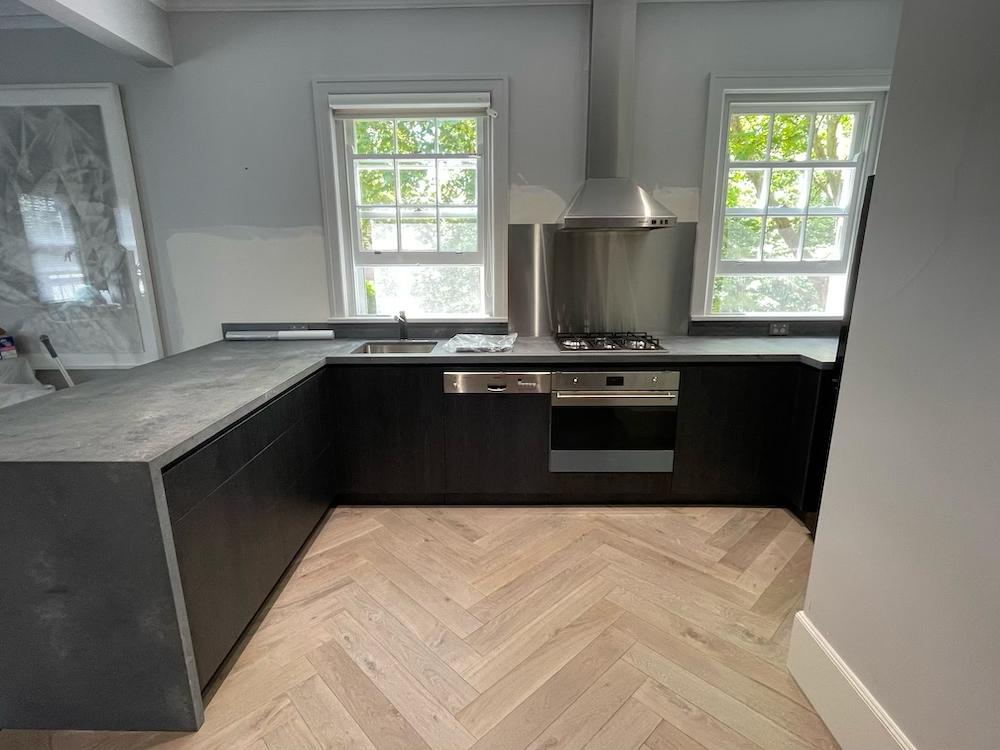 Request a Quote
Please leave your enquiry or message below and we will be in touch with you shortly.