Northern Suburbs
Elevate your living in the Northern Suburbs through our kitchen renovations. From contemporary to timeless designs, we tailor each renovation to capture the essence of this dynamic region. Our focus on practicality and aesthetic appeal ensures kitchens that seamlessly integrate into the vibrant lifestyle of the Northern Suburbs.
Beecroft – A Fusion of Functionality and Style
Our design solution unfolded with a focus on fluidity and accessibility. An expansive L-shaped kitchen and island bench became the heart of the transformation, seamlessly connecting to an impressive 8-meter corridor-style scullery. This dynamic space not only catered to culinary needs but also extended effortlessly into the generous outdoor alfresco kitchen, bridging the gap between indoor and outdoor entertainment.
Explore Beecroft Kitchen Project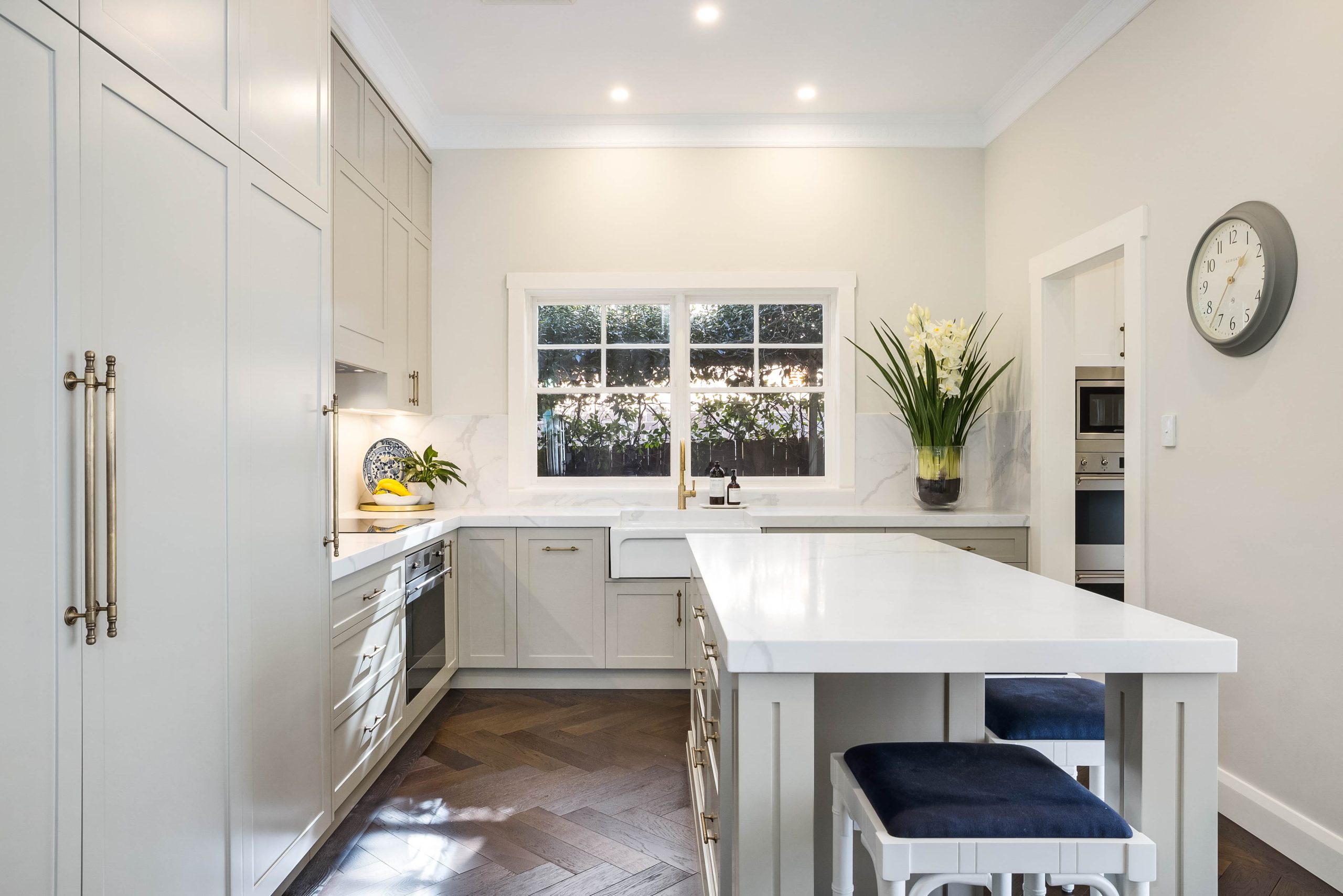 Gladesville Kitchen Renovation
Kitchenkraft proposed a new U shape design with a galley design for the pantry/appliance area. An attached island was proposed to open up the room and create a breakfast bar seating area. This proposal reduced corners, concealed appliances and allowed a huge accessible pantry with scooped shelves and BLUM internal drawers.
Explore Gladesville Kitchen Project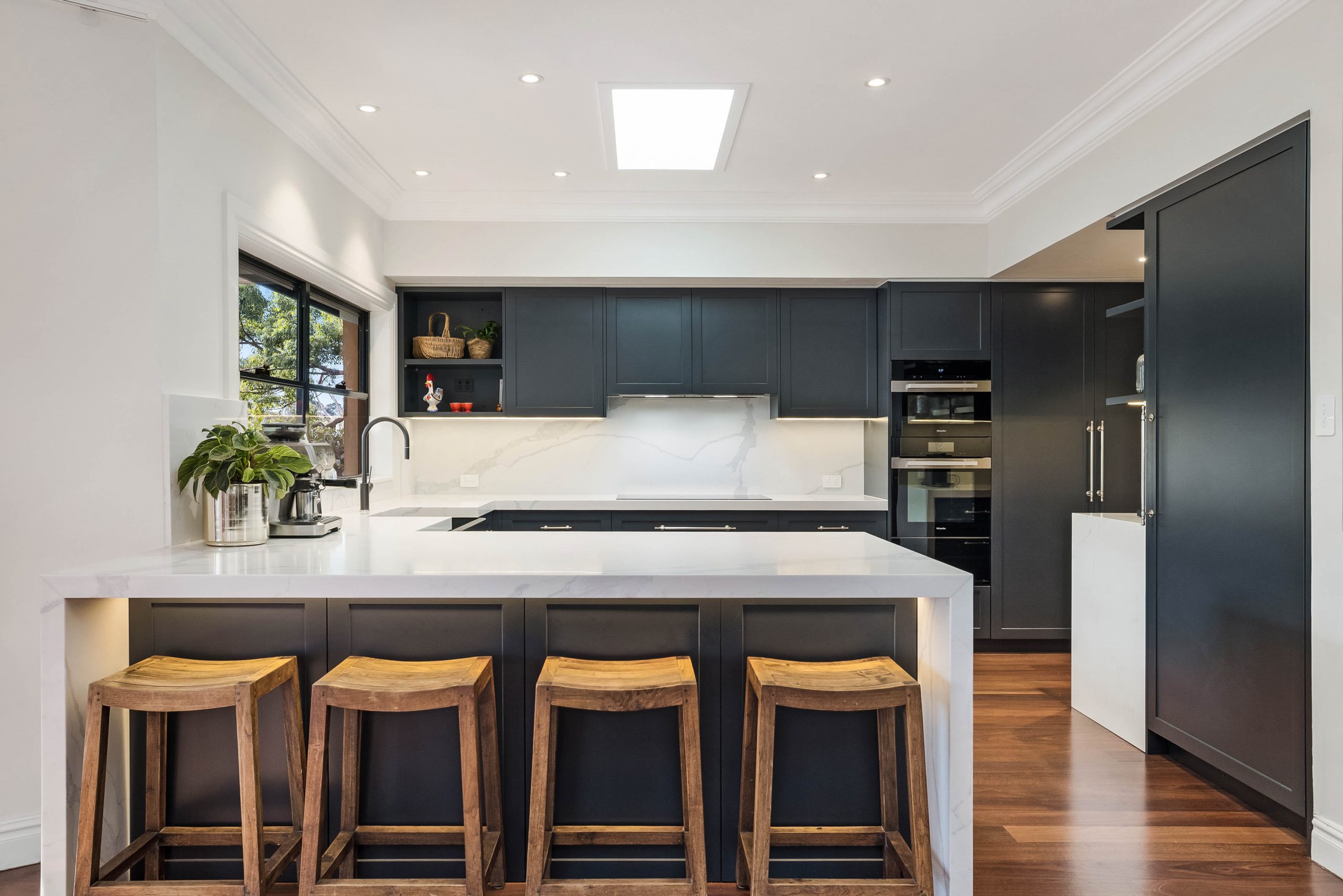 Ryde Beautiful White Kitchen Design
Kitchenkraft's proposal for the butler's pantry includes a wrap-around benchtop for convenient, always-plugged-in everyday appliances, BLUM pantry drawers beneath for easy access, and upper wall cabinets with adjustable shelves designed to store dry foods effectively. The Main kitchen we proposed a full slab kitchen island with seating area and wide/thick side columns for a substantial appearance.
Explore Ryde Kitchen Project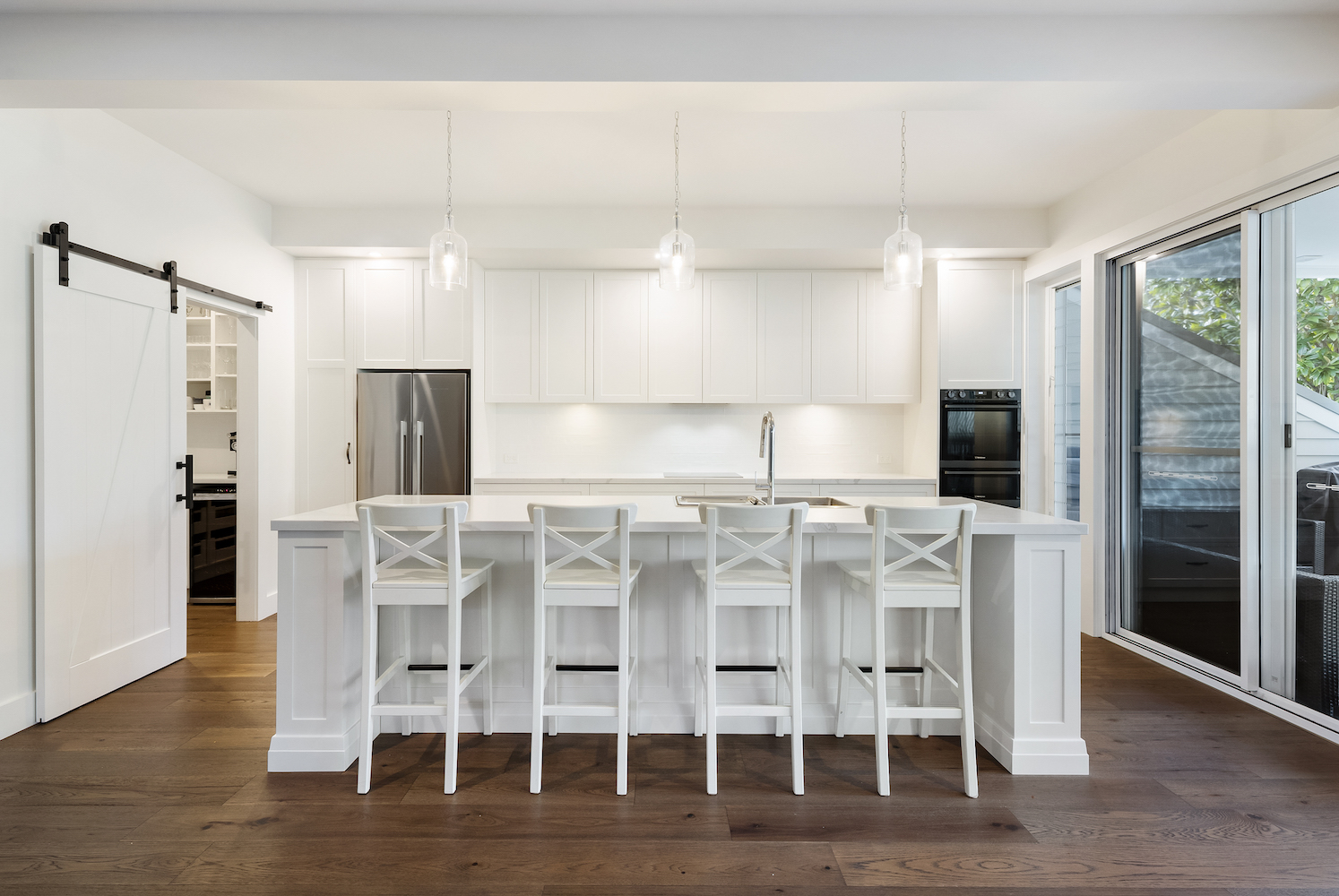 Testimonials
What our clients are saying
We worked with the team at KitchenKraft recently to fully renovate our kitchen. We began the process with their designer Kate, who was fantastic! Incredibly knowledgable and professional. I had lots of requests when it came to the design and our kitchen space is relatively small however, Kate managed to include everything we asked for. She was also the only designer who let us see the designs before committing to the company – many other businesses wanted us to pay a deposit first. Kate was able to suggest design features based on the style that I described to her and she absolutely hit the nail on the head. During the installation, the team were exceptional. Carpenters/installers were on time and highly professional throughout the entire process. Their communication skills in updating us throughout the process were really helpful and the quality of there work was flawless. I have since had other trades comment on their workmanship. We are so impressed with the finish of the kitchen as well as the way in which trades went about executing them. Nothing was too much trouble. Highly recommend KitchenKraft!
Mia Bennetts
4 months ago
Kitchenkraft came highly recommended from one of our friends who did a whole house renovation. We met with the then owner Franz and immediately felt like he understood what we were trying to achieve. It was a while before we were able to commit to our laundry and kitchen Reno at which point Franz had retired and his sons were running the business. We have been so incredibly impressed with everyone we have dealt with since. From Kate the designer to Andrew the owner and Karl and Billy who did our installation. Everyone was always very responsive and took immense pride in their work. They were always solution oriented and held their product to a high standard…to the point that they took a couple of cupboard doors back 3 times to get redone as they were not happy with some imperfections that I could not even see! The end product is just beautiful and we are so happy with it. It may have been more expensive then going with some big town franchises (which we have used before) but you can see where the extra money goes and it's so worth it to have such a beautiful laundry, kitchen and tv cabinet! I would highly recommend the team at kitchenkraft.
Zuzana Paulech
4 months ago
"Highly recommended, professional and knowledgeable".
We are absolutely ecstatic with our new KitchenKraft Kitchen.
This was our first major renovation. KitchenKraft came highly recommended from friends who had used them previously.
They have a great showroom where you can physically see examples of the different styles and colors that are available. The design process was straight forward with Michael expertly and patiently guiding us through every step of the way and helping us with our decisions.
Once the design was done, the highly professional and knowledgeable installation team including Rabi, Aymen, Ben and team did a stellar job installing it. They dealt with all issues promptly courteously and professionally and were on site when they said they would. Their work is really high quality.
Our new kitchen looks fantastic and even better than I even imagined it would be and we love it.
We have absolutely no hesitation in recommending KitchenKraft to anyone who is considering a new kitchen.
Arthur Manganas
4 months ago
We are very satisfied Kitchen Kraft customers. We have had drawers installed in most of our kitchen cupboards and the results are fantastic. The quality of the fittings is excellent and Karl, who completed the installation did a marvellous job. We couldn't be happier. He is a real asset to the company. The kitchen is now a much more functional workspace. The Kitchen Kraft team are efficient, professional and very easy to deal with. The whole process from initial enquiry through measure and quote and job completion was a breeze. Thank you Kitchen Kraft.
KitchenKraft created our dream kitchen, that four years on, is still as perfect as when it was installed. The team understood our vision and provided excellent guidance on all of the design elements, both practical and aesthetic. We highly recommend KitchenKraft!
KitchenKraft are amazing. We had a complete kitchen renovation. Two words: integrity & professionalism. The highest praise I can give them is that they are trustworthy. Renovating can be such a stress. The designer and the builder were excellent communicators, men of their word and very skilled in their trade. This company is the real deal.
The KitchenKraft team has been amazing from the start until the end. We received a call from Michael after we went to the showroom within a day for consultation and quote. He is very professional and happy to accommodate our requests. He coordinated the kitchen renovation along with our tiler. KitchenKraft also installed our laundry cabinets and replaced our vanity doors. The quality of work was top notch. All our queries were answered promptly. Everything went smoothly.
I highly recommend KitchenKraft. They made me develop my trust again with builders and tradesmen. Keep up the awesome work KitchenKraft!
Kitchenkraft did an excellent job for our kitchen and lounge reno. They were professional, timely, responsive, had some great ideas/suggestions and the trades work was very high quality. I would recommend them highly and would not hesitate to use them again.
I had my kitchen doors replaced by Kitchen Kraft and the internal cupboards renovated. I am extremely happy with the work and the results of the renovations.
From my initial phone call to the visit by their kitchen designer and the installers everyone we extremely knowledgeable, professional and did what they said they would do.
I would definitely recommend them and would use them again.
I very pleased with my KitchenKraft new kitchen. They were recommended to me by another very satisfied customer. Franz and staff were extremely reliable and professional. The quality and workmanship is first class. I have no hesitation in recommending KitchenKraft to others contemplating a renovation.
We've just had our second KitchenKraft kitchen installed. We are absolutely delighted with the look and working of the kitchen. They listened carefully to what we wanted and came up with great solutions we could never have thought of. We never felt pushed as to design or costs. Their technical manufacturing kept costs down. The KitchenKraft installers were fabulous to deal with. Every KitchenKraft person loves their job and want the very best for their customers. Everything was done on time and on budget.
Helen Townsend
1 year ago
This whole process took some time due to Corvid restrictions , however the KitchenKraft team was with us all the way! From the initial design (thank you Franz!) sessions to the stage where we finalised the look and feel of our new kitchen. The logistics, craftsmanship of the material and the professional installers just fantastic experience. Most important we now have wonderful kitchen which is nothing short of breath-taking. We love it and are so happy we got KitchenKraft team involved, their service was amazing and prompt.
Michael Ziegelmann
1 year ago
KitchenKraft did an amazing job with our kitchen – the team were wonderful and very organised. They gave us some good ideas on how to make some changes and were also very practical. They completed the work in a very timely and professional manner – I definitely highly recommend this company.



Ready for your Kitchen Renovations Sydney?
KitchenKraft has one main reason why you should renovate your kitchen with us rather than another renovation company.
ENQUIRE NOW