Your Premier Kitchen Designer in Sydney – KitchenKraft
We have You covered from Start to Finish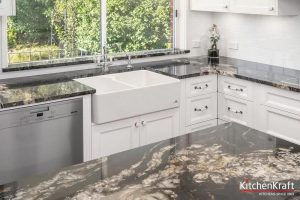 Welcome to KitchenKraft, your top destination for exquisite kitchen design in Sydney. With over 60 years of dedicated service, we've been transforming ordinary kitchens into extraordinary living spaces. Our passion for crafting functional, beautiful, and custom kitchen designs is at the heart of what we do.
At KitchenKraft, we understand that your kitchen is more than just a room; it's the heart of your home, a place for family gatherings and culinary creativity. That's why we're committed to delivering top-tier kitchen design solutions tailored to your unique needs.
Why Choose KitchenKraft as Your Kitchen Designer in Sydney:
Experience:

With six decades of experience, our team of Kitchen Designers have the knowledge and expertise to bring your dream kitchen to life:

Your Vision – Your Way – Your Kitchen – Period.
Customer-Centric Approach:

We put you at the centre of every design. Your satisfaction is our priority.

Quality Craftsmanship:

We combine artistry and quality materials to create kitchens that stand the test of time.

Personalized Design:

Your kitchen is as unique as you are. We work closely with you to tailor our designs to your vision and lifestyle.

Optimum Space Utilization:

Our design process is focused on optimizing your kitchen space, ensuring every corner is efficiently used.

Award-Winning:

We take pride in being an award-winning kitchen design company, earning recognition for excellence in our field.

Longevity:

Since 1963, we've been dedicated to designing, manufacturing, and installing kitchens, showcasing our long history and commitment to quality.
Kitchen Design Process:
At KitchenKraft, we believe that the kitchen design process should be a collaborative and exciting journey for our clients. Our comprehensive approach ensures that your vision is transformed into a stunning reality. Here's an overview of the steps we follow:
Consultation:

It all begins with a one-on-one consultation. We sit down with you to understand your unique vision, requirements, and budget. This is where your ideas take centre stage, and we listen carefully to ensure we capture every detail.

Planning and Conceptualization:

Before any design work begins, we start with an in-depth planning phase. During this stage, our team collaborates with you to understand your lifestyle, preferences, and the functional requirements of your kitchen.

Raw Design and Sketching:

With a clear plan in place, our designers take your input and translate it into raw design sketches. These initial sketches are the foundation of your dream kitchen. We provide you with these sketches, allowing you to review and make any necessary adjustments or suggestions before moving forward with the final design.

Detailed Design Drawings:

Once we've refined the initial sketches based on your feedback, we create detailed design drawings. These drawings include precise measurements, material specifications, and layout details. You'll have a chance to review these detailed drawings, ensuring that every aspect of the design aligns with your expectations.

Design:

Our experienced Kitchen Designers in Sydney take your input and create a custom kitchen design that reflects your style and practical needs. This is where your dream begins to take shape on paper, and we work closely with you to refine the design until it's perfect.

Material Selection:

We help you choose the finest materials, fixtures, and finishes to bring your vision to life. Our team guides you through the selection process, ensuring that every element aligns with your preferences and budget.

Construction and Kitchen Installation:

With a solid plan in place, our skilled craftsmen get to work. Using top-tier materials and expert craftsmanship, they construct your dream kitchen. Throughout this phase, we keep you updated on the progress and address any questions or concerns you may have.

Final Inspection:

Before handing over your new kitchen, we conduct a thorough final inspection. Every detail is scrutinized to ensure it meets our high standards of quality and craftsmanship.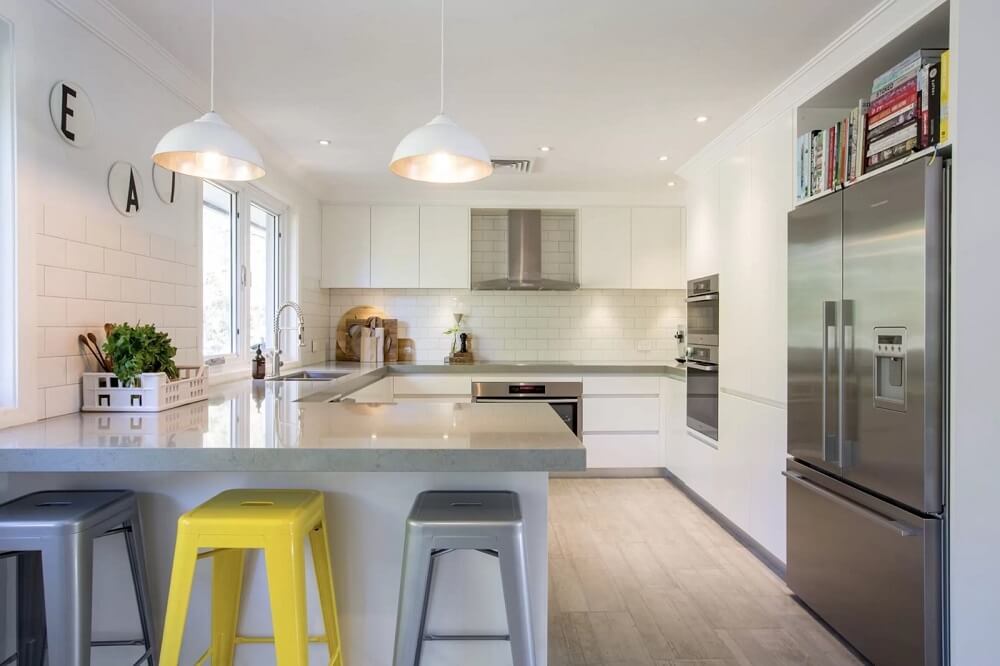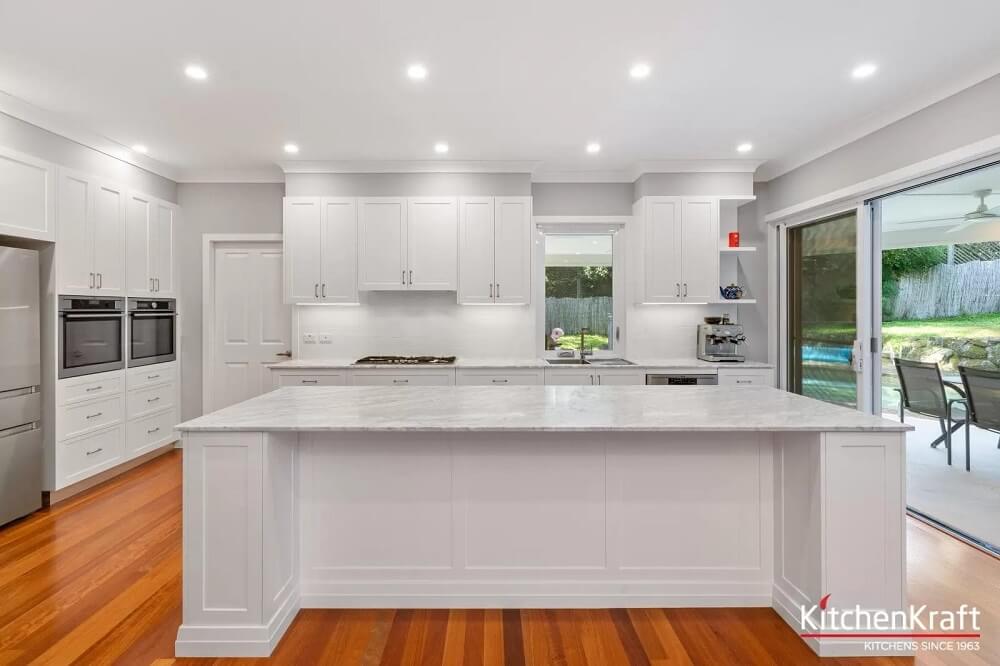 Cost Estimation:
We understand that budget considerations are important when planning a kitchen design project. The cost of your kitchen design can vary based on a variety of factors, including the size of your kitchen, the materials you choose, and the complexity of the project.
Our approach is to provide you with a transparent and accurate cost estimate. While we can provide ballpark figures, the best way to get an accurate estimate is through a personalized consultation. This allows us to consider your specific needs and preferences, ensuring that the cost aligns with your budget.
Customer Testimonials
:
Hear what our satisfied clients have to say:
Commitment to Quality and Craftsmanship: Our commitment to quality and attention to detail is second to none, making us the top choice for kitchen designers in Sydney. Our factory has the latest computerized manufacturing machinery, which allows us to build each kitchen to suit your space, style, and taste!
Showroom:
You can visit our new Showroom in Sydney to see some of our finished designer kitchens, providing you with a tangible experience of our work. Our Showroom is conveniently located at 365 Blaxland road, Ryde NSW for your viewing.
Service Areas: We proudly serve all neighbourhoods and suburbs in Sydney. No matter where you are, KitchenKraft is here for you.
Contact Information: Ready to start your kitchen transformation? Contact us today:
Ready to make your kitchen dreams a reality? Book your kitchen designer today for a personalized consultation tailored to your needs.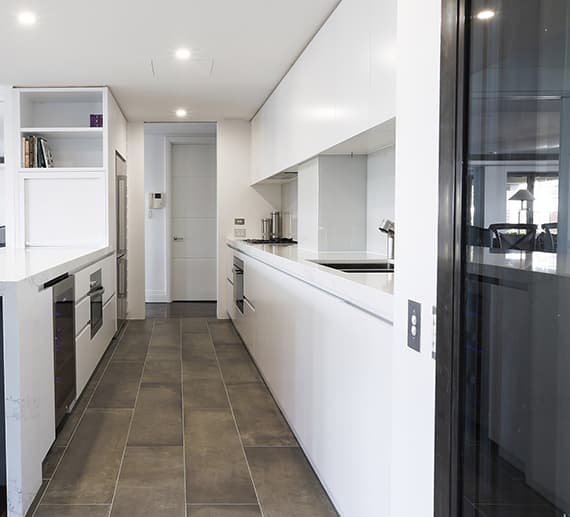 Ready for your Kitchen Renovations Sydney?
KitchenKraft has one main reason why you should renovate your kitchen with us rather than another renovation company.
ENQUIRE NOW